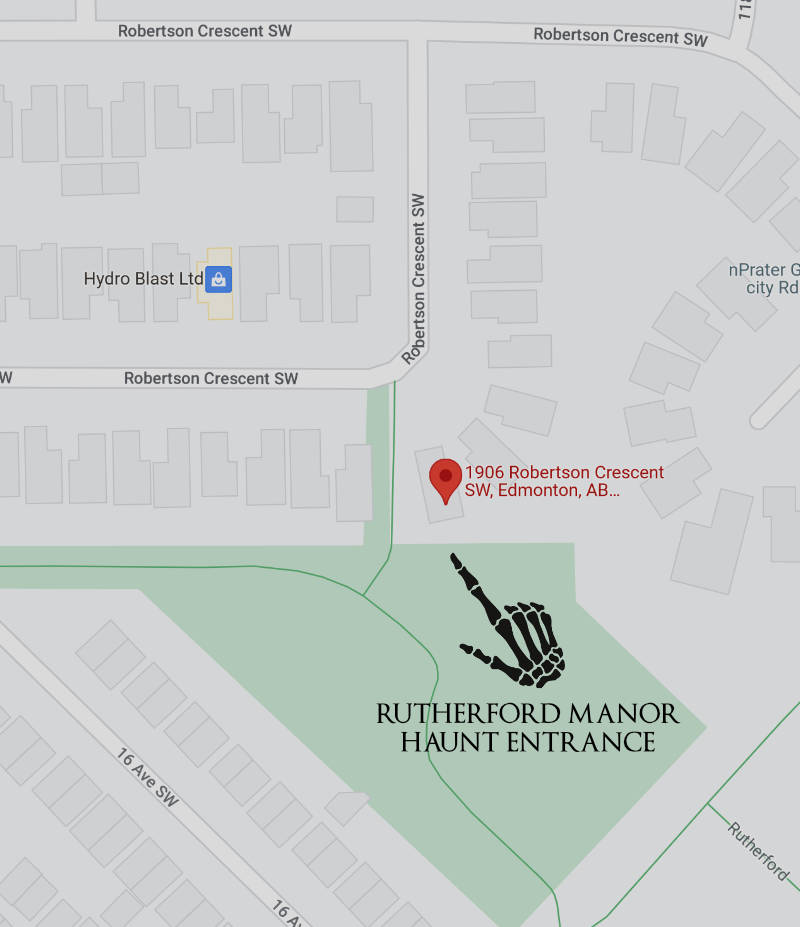 Haunt Address
1906 Robertson Crescent SW
Edmonton, Alberta T6W 1N8
Admission to Rutherford Manor Haunt
There are two ways to gain access to the infamous Rutherford Manor Haunt. Our haunt support two charities Second Chance Animal Rescue and the Edmonton Food Bank.
Admission Method 1:  Donate to SCARS
Simply donate a minimum of $2.00 per person to Second Chance Animal Rescue at the Haunt Entrance for access to some serious thrills and chills!
Admission Method 2: Donate to the Food Bank
There will be a Edmonton Food Bank donation truck at our site.  Simply donate your food for TICKET that will give you access at the Haunt Entrance.
We thank you in advance for supporting these amazing organizations. All donations are welcome and donation sums larger than the minimum is always appreciated.
Haunt Hours
October 28, 2022  6:30 to 10:30 PM
October 29, 2022  6:30 to 10:30 PM
October 30, 2022  6:30 to 10:30 PM
October 31, 2022  6:30 to 10:30 PM
Special Lights On Event:
October 30, 2022 1:00 to 4:00 PM
RUTHERFORD MANOR HAUNT RULES
Enter at your own risk!!
Our haunted house is not intended for small children, although all children are admitted. It is not recommended for children under the age of 10, it is SCARY!!! Fog machines, strobe lights, lasers and extreme noises are used in our haunt.

Do Not Touch Props

Do Not Touch The Actors
They may touch you but always in a safe way. 

No Running or pushing in the Haunt


This is foe the safety of you and others. 
DO NOT ABUSE THE ACTORS OR STAFF!!
Any verbal or physical abuse of the Haunt staff or actors will result in you being immediately ejected from the Haunt and may also result in the contact of law enforcement. 

HAVE FUN!!!


Hey, this is Halloween, ENJOY IT!
Parking
The entrance to the Haunt is located at the back of the house via the sidewalk beside the venue. Please park at Jonny Bright School for easiest access at 1331 Rutherford Rd SW, Edmonton, AB T6W 1P4.  There is a path that leads directly to the Haunt from the School.